AutoInc Magazine Top 10 Automotive Website 2015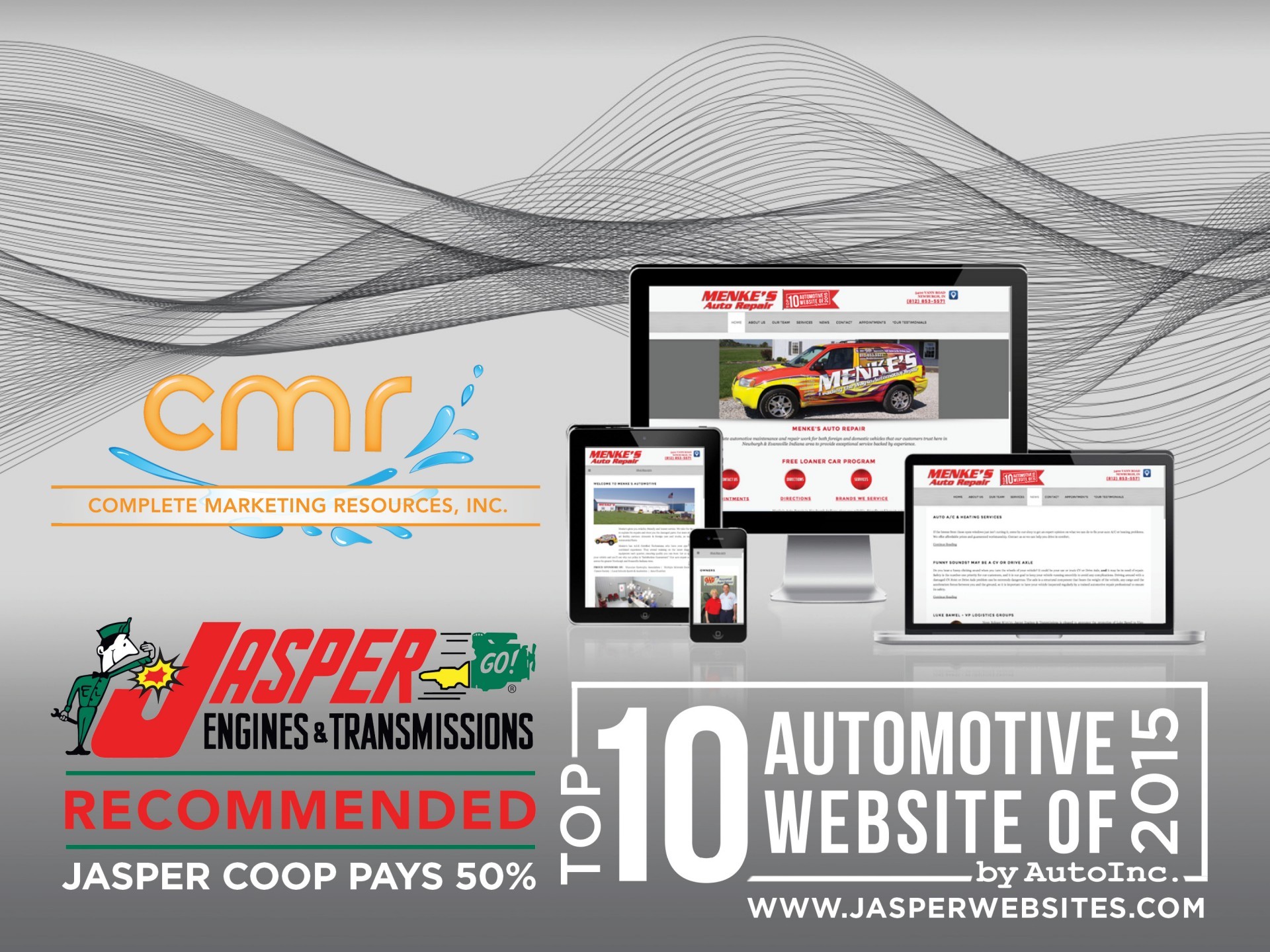 I am very proud to announce that my team has received national recognition earning Top 10 Automotive Website 2015 by ASA's AutoInc Magazine on the criteria of being mobile-friendly, having a call to action, first impression and visual design, objective and purpose, consumer friendliness, technical usage, credibility and social media presence with www.menkesauto.com for Menke's Auto Repair of Newburgh, IN. The website and award was featured in their November / December issue. *article information below.
I am honored to work with those who have a strong commitment to quality and excellence and to have our downtown Madisonville business recognized on a national level by a program like AutoInc Magazine which would not be possible without with the owners of Menke's, Verne and Barb, who spent so much time on the project. Their standards are equally high and they devoted a considerable amount of time and effort to ensure everything was perfect. Working with them helped us step up our efforts and learn more so that we can help other shops we work with and I thank them for choosing our team to work with.
CMR Inc has worked with 185 garages since earning the recommendation of JASPER Engines & Transmissions for their Owner-Installers and that is another matter of pride for us as their products and history show them to be a strong company with high standards. Working with their Marketing Department to design a program for the shops that would help them grow ensured that we woudl be focused on their growth and specific needs across all venues from the front desk and customer service to the quick service jobs and heavy repairs such as full engine and transmission replacements with their JASPER product line. We learn something new daily from our garage owners and continue to build the www.JASPERwebsites.com program and brand. We also have a great time helping them grow their businesses with new innovations and by ensuring all of their brands and affiliations are listed on the website so their customers can find everything they need on the website vs leaving it.
"Sometimes, work isn't a job - it's an adventure!" - Marion M Miller, President
AutoInc Magazine, Menke's Auto Repair TOP 10 Automotive Website, 2016:
"The website at Menke's Auto Repair starts with the team. Visitors are greeted by a clean, modern look and a photo of the entire staff. Quick links and copy highlight Menke's free loaner car program and facility tour with both static and video to show the clean, modern facility. Customer trust is further enhanced by the prominent display of the shop's affiliations, which include ASA, ASE, AAA, NAPA AutoCare, and Angie's List Super Service Award. Information on business hours, directions, payment methods, and news - information round out a well-presented home page."
Judge's Comments:
First-time visitors can see an impressive list of awards in the About Us section.
Appointment and Contact tabs ae easy to find and use, as are the services offered.
The Our Team section features photos of Menke's staff, putting names with the faces featured on the website.
The Testimonials tab offers reviews from existing customers and further cements the "customer first" nature of the business. The use of the customer video is impressive.
The facility tour shows a clean, well-equipped and organized facility more often associated with a dealer-ship operation and the large glass wall allows waiting customers a view into the service area. Perhaps more impressive is the customer waiting area, which looks more like a living room than a repair shop waiting area.
Menke's even includes a photo of a clean, well-designed restroom to drive home the quality service message.
While we love having a Top 10 Automotive Website, being part of their team and getting these comments from Vernie & Barb Menke: "Thank you for all you do for us! You are amazing! :)!" were the goals and awards we wanted to earn. - "Thank you for working with our team, we love it and together we all can be proud of the outcome! Marion M Miller, President"